Besides the fact that Beauty and The Beast to me is a story of desperation (see the Jean Cocteau film) and besides the fact that Beauty and The Beast surrounds me everywhere ~ everybody I know is either being the Beauty or the Beast ~ the experience of recording this song was so special.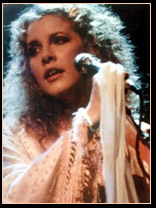 It began as a piano demo done in Lori's husband, Gordon Perry's studio in Dallas; the room is just magical, a church. Lori later sent me a tape with beautiful voices on it, and Sharon and I tried to duplicate it but we couldn't. So we got all the original vocalists together in New York and recorded it live.
We brought the orchestra in for a three-hour live session ~ and I'm someone who's oblivious to being able to do anything in the studio in a mere three hours! I knew they were gonna pack their little violin cases and walk away from me in no time; meanwhile Roy Bittan's playing piano just like I do, real simple, and that's hard for a good pianist to do, and everybody's watching me ~ nobody has done a live session in years, no Stevie Nicks has walked in in a long black dress to sing Beauty and the Beast with champagne for all these men in probably as long as they can remember, even 30 years ago.
I wanted them to feel like they were the most special orchestra that ever existed, for that night. They walked in, played, and left, and it's like they don't even have any idea what they gave me, how precious it is.
~Stevie Nicks, Wild Heart Press Kit Notes, 1983